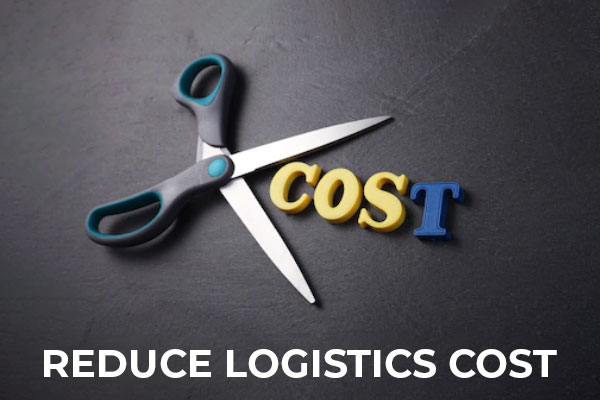 Reducing logistics cost is always a big challenge for any organization. The logistics costs of an organization largely comprise bulk delivery of products, custom clearance, warehousing, distribution, and related IT costs. Different companies have multiple priorities, but reducing logistics costs is vital for everyone as it directly contributes to their revenue. Most of the companies often suffer due to high initial set-up costs, higher costs of service providers, and large bandwidth requirements to manage operational issues. Let's analyze how an organization can reduce its logistics cost. 
Latest Technologies
Technology is a solution to most of the problems. The latest technology can provide better access to the logistics process. Technology can help in better management of the logistic system. It also helps the logistics system in a below-mentioned manner: 
Route Mapping –

With the help of technology an organization can navigate the route and get access to allocate pick-up and drop location which helps in delivering the product quickly and efficiently. You also get an option to track the traffic and divert the vehicle to the non-traffic area and avoid other problems that can occur during the trip.

Trip Optimization –

Technology enables optimization of the trip for better movement. With a proper route and load allocation, a vehicle can do more trips, thus saving cost. Technology also gives a better opportunity to manage the best possible shorter routes and maximized delivery trip options. 

Load Optimization –

With technology, a vehicle can get more goods from different pickup points and can deliver at different delivery points. Manual optimizing is only possible for the lesser amount of drop and pickup points. Unlike manual optimization were finding the exact location for pick up and drop points in real-time is difficult, technology helps in mapping all these at a real-time, thereby saving time and energy. 
Optimizing Reverse Logistics System
The maximum utilization of a vehicle will reduce the overall cost. So, if a vehicle is on a dropping trip, using the same vehicle for pick-up from that area will optimize the utilization of a vehicle. 
Using Multiple Warehousing 
Investing in your own warehouse is massive on budget. As it involves several expenses in terms of manpower costs, maintenance, running costs, etc. There is also a challenge of finalizing and implementing the most suitable IT systems for your warehouse operations. So, an organization can select multiple warehouse space instead of investing in its own warehouse. It will reduce the warehouse cost and will also increase availability. If an organization is using different warehouse spaces, it can also reduce the logistics cost. This also does not require a huge capital investment.  
Access to Experienced Professional Workforce
If you want your business to be successful and different from your competitors, you must employ experienced and trained professionals. An expertise service from an expert workforce provides the best result. With the help of these experts, your logistics system can run smoothly. 
Initiate New Projects at No Additional Cost
All companies have new ideas and projects that would contribute to growth, expansion, etc. but are not able to actively pursue due to insufficient bandwidth or multiple internal priorities. For that matter, an organization can outsource the project at a nominal cost. This strategy will help management to get multiple projects on the ground at low costs, while they focus on the business itself. 
Treating Logistics as a Value Addition
Most of the organizations take logistics as an extra service. However, it is important to understand that each and every part of logistics adds value to the company and enhances the user experience. So every organization must give a legitimate time and resources to manage the logistics to get a competitive advantage. 
If you follow the above-mentioned tips then you can definitely reduce the logistics cost of your organization. You can take care of entire logistics at an affordable cost and always be ahead of your competitors and get a competitive advantage for your organization.