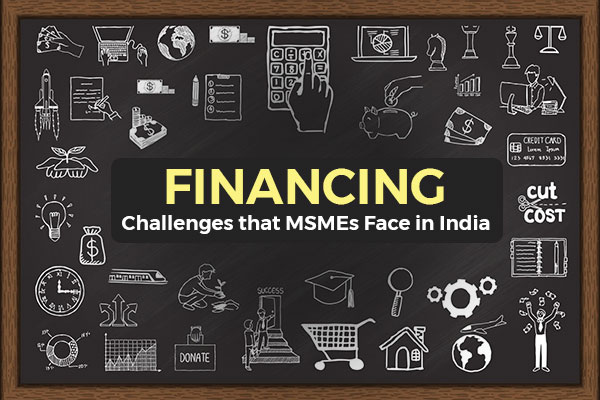 MSME sector is one of the main factors responsible for the country's growth and pride over the last few decades. This sector employs millions of people and contributes to the country's exports and GDP. It strengthens the entrepreneurial spirit and opens countless opportunities for people. 
Despite having good knowledge, there are several financing challenges that MSME sector faces in India. The formal financing system hardly reaches 16 percent of Indian MSMEs. This is why many small-time entrepreneurs find it hard to get access to the great working capital and struggle to pay off their debts. 
Therefore, it is necessary to understand the common issues that every MSME face and the long terms strategies to bridge the credit gap and improve financial literacy.  
Lack of Financial Literacy: Most people associated with the MSME sector belong to the low-income section and are educationally deprived. These people have the entrepreneurial spirit to start a small business. But it also means that in MSMEs, people generally don't have sufficient financial literacy and exposure to make hard-headed business decisions. This inexperience causes them to make unfeasible financial decisions that lead to imbalanced working ratios. Therefore, they end up with low credit scores, an inability to leverage the latest technologies or high-interest rates. 
So, a grassroots-level financial literacy program is necessary to be implemented in order to teach entrepreneurs how to better source, invest, and expand financing.
Lack of Trust by Traditional Banks: Traditional financial service providers often hesitate to provide MSMEs with financial support. Due to their small loan amounts, MSMEs are the less attractive customers for them. These banks also doubt the repayment capabilities of MSMEs. So, they apply strict regulations and also do not proper proportionate their returns. Thus, MSMEs are a high-risk sector for banks due to their low credit ratings. 
Less Number of Borrowing Options: MSMEs prefer traditional banking channels. But these channels, take a long time to assess and release loans. Without the proper knowledge of digital lending channels, MSMEs end up spending resources to meet complex eligibility factors. It leads to further delay in financing and liquidity.
Lack of Liquidity for Expanding Operations: MSMEs work under the limitations of high inventory costs. Thus, they look for the simplest and quickest funding resources. These resources do not stay for a long time. So, MSMEs always race from one solution to another and never get the opportunity to achieve economic goals. This lack of liquidity can be enhanced with better financial literacy and profitable schemes to encourage high return investments. 
These are some of the financing challenges that every MSME faces in India. Understand these points and try to eliminate them to achieve ultimate success.