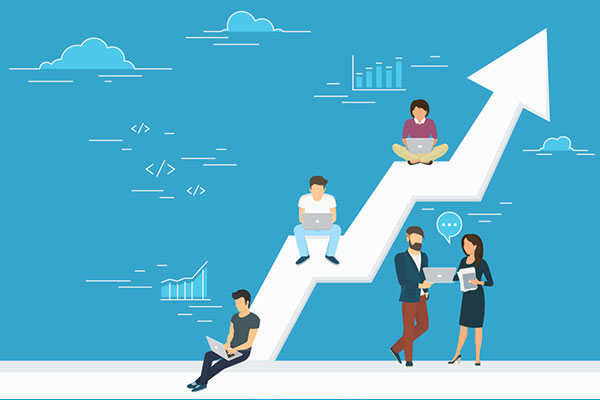 E-commerce is one of the most thriving sectors in India and has changed the shopping pattern of individuals. Gone are the days, when people used to shop for fashion from these online stores. Today, even B2B sector relies on online shopping for their industrial and business supplies.
This positive shift in the shopping trend of the customers has been welcomed by the online marketing sector, which raised a number of entrepreneurs venturing with various products. However, this has increased competition in the market. 
B2B e-commerce business has opened immense opportunities for the online industry, and the following has been forecasted for Indian e-commerce:
Growth in Marketing 
Marketing and branding activities are an important part of e-commerce sites. Many e-commerce sites have seen a gradual growth in performance-based marketing and have turned out to be a blessing. This offers great profitability. It is important to pay attention to the market that brings in a considerable amount of sales in the future. 
Rise in Wallet Usage
With everything shifting to smartphones, businesses have become more digitized in payment. Last year, wallets and online payments were in trend, and in the coming years, the trend is not going to fade away. More and more people are adopting digital and cashless payments. Wallet usage will surely become the preferred choice of payment mode in the coming years.
New Categories to Take Over the Stakes
Now, Indian e-commerce companies are not only limited to fashion, food, and grocery; they have entered in categories like electronics, tech, and gadgets. New entrepreneurs have set their foot to create, capture and dominate various categories that have a regular impact on our daily lives. 
Digital Transformation for B2B Sector
B2B business can save up to 90% on sales and operating costs due to B2B e-commerce websites. Digital transformation will help in bringing speed, predictability as well as profitability to the B2B segment. 
Customer Care and Engagement will be Crucial
The existence of customer support services allows nearly instant feedback. This feedback keeps sales executives aware of the improvement areas. In the future, there will be a more tech-based approach to this. It will likely help businesses handle real-time customer queries. 
More Emphasis on Data Analytics
Every e-commerce company relies on data analytics to drive decisions. This practice will grow in the future as more specific data tools become available. Data analytics can also be used to drive traffic to the website and also to drive the right offers to the user base. Data-driven campaigns always perform better and the scope of data analytics will surely increase in the upcoming years. 
Virtual Shopping Experience will Increase
The time is changing and so is the shopping experiences. The key purpose of e-commerce sites is to bring the shopping experience alive for the customers. With e-commerce websites, you get an option to visualize how a product is without actually going to a store. 
Artificial Intelligence 
In this era, artificial intelligence is a part of our everyday lives. This will also play a key role in e-commerce as we rely more and more on our mobile devices. At present we have features that suggest our products based on our purchase history, browsing history, likes, etc; however, in the coming years, the tools will become more specific and provide us suggestions more accurately.
Now the technology is evolving every day, and with this, the shopping and e-commerce trends are also changing. Now e-commerce aims to increase sales and multiply the number of online shoppers. The above-mentioned trends just not only aims at enhancing the operation of a website but also focuses on complete customer satisfaction. With so much to be implemented in the e-commerce sector, the B2B e-commerce industry is sure to thrive more avid.